Rainbow Trugs® in the Equestrian Field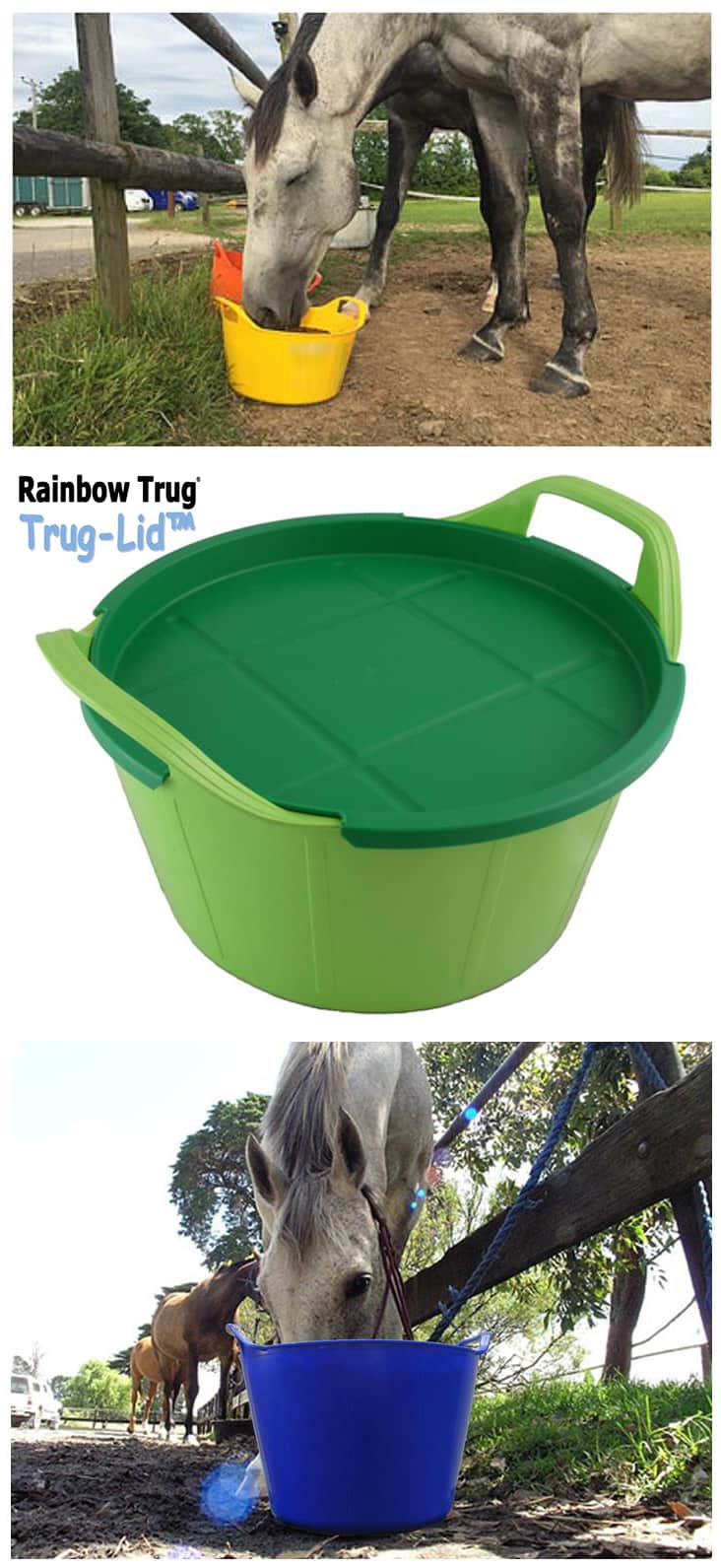 Rainbow Trugs are widely used in the equestrian industry due primarily to their exceptional quality, wide range of fabulous colours and our unique Trug-Lids™. Known for their remarkable durability, food grade Rainbow Trugs are the ultimate horse feed container.
With thick sidewalls and extra wide handle grips 14 Litre Rainbow Trugs were primarily designed with horse feeding in mind and are an essential piece of equipment for equestrians to use around the yard and fields. Rainbow Trugs are available in an array of incredible colours which makes it easier to colour coordinate your horses feeds when necessary. Rainbow Trugs are remarkably easy to keep clean and periodic cleaning of all horse feed/water bowls is essential as spick and span containers are a hallmark of a well managed stable.
​When it comes to water storage or general muck-shifting we recommend our 45 Litre Rainbow Trugs® which were originally designed for heavy work loads such as the building industry. As with our 14 litre trugs, they have thicker sidewalls for added durability and extra wide handle grips for comfort.
Our revolutionary Rainbow Trug® Trug-Lids™ not only make Rainbow Trugs stackable but turns them into the ultimate lidded containers. Made from durable Polypropylene they can be used for a multitude of uses around the yard. Rainbow Trugs are essential for Equestrian users who prepare their horse feed in advance and the addition of lids will turn them into safe storage containers which will help to keep out rodents and other unwanted pests.
​Top quality Rainbow Trugs and lids are an invaluable piece of equipment that no stable or yard should be without.
Designed and manufactured here in the UK, we only want the best for our customers and have worked tirelessly to develop exceptional quality, immensely durable, flexible trugs and accessories.
In line with good practice, we do not recommend leaving a loose trug or any loose equipment in a stable overnight as a horse may injure itself while unattended.
Equestrian Retailers can also buy 24/7 through our website by means of a 'Retailer' login. Ordering is super easy, low carriage paid levels, no having to buy 'pack' quantities and dispatched quickly. Quality products that customers demand with a good sales margin. Click here to 'Apply for a Retailer Login'.

Rainbow Trugs® is a Brand you can trust