Rainbow Trugs®
Why choose Rainbow Trugs?
We are passionate about Rainbow Trugs and work extensively to design and manufacture exceptional quality products for our customers. With their thicker sidewalls and base together with handles specifically designed for strength, Rainbow Trugs are a durable product like no other.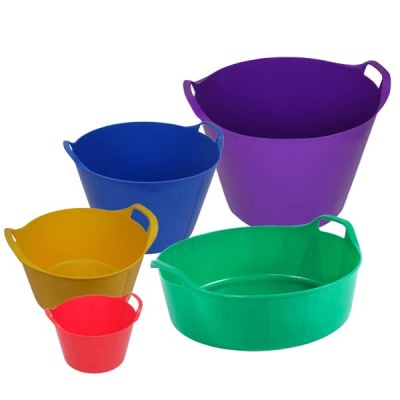 Rainbow Trugs are:
Made in the United Kingdom
Free from Phthalates and other harmful chemicals
Made from 100% Food Grade material
Frost and UV Resistant
BSI Tested
Flexible yet Very, Very Strong
Recyclable
Able to be nested or stacked within each other
We manufacture our Rainbow Trugs with premium quality low density polyethylene which complies with all EU and US (FDA) manufacturing standards.
Rainbow Trugs have STRONG and ERGONOMIC handles, designed to be comfortable whilst carrying heavy loads. The embossed scale inside our 14, 30 and 45 Litre trugs is a helpful addition when the need arises.
You can read more about our amazing Rainbow story and how it all started by clicking on our about us page
Warm Regards,





​









The truely Practical and Multi-Purpose small container. Food Grade so great for snacks & crisps at parties, as a desk tidy or a funky plant pot.

A small shallow plastic trug used for a variety of jobs. Used as horse feed bucket, plastic bins, pet bowls, storage tub, and toy storage.

15 Litre Rainbow Trugs® Scent-Sations™

A small 15 litre capacity flexible plastic trug BUT Scented... High in strength and can be used as plastic buckets, water bowls,toy tidy and so many more uses

A large shallow plastic tub, or plastic trug suitable for food containers, storage, animal feeder, childrens sandpit, baby bath and so much more

A medium 30 litre (approx 6.6 gallons) capacity flexible plastic trug. Makes a perfect plastic storage, container, plant waterer, toy box, car washing bucket and more

A large 45 litre (approx 10 gallons) capacity plastic flexible trug, great for building sites. Pet food storage, builders tubs, toy storage, laundry basket, gardening bucket and so much more

Contrasting and complimentary colours, in pre-selected combinations provide practical storage that colour coordinates with your surroundings.