Reduce, Reuse and Recycle
12 November 2021 | Admin
Seeing all the world's leaders, scientists and environmentalists in Glasgow for COP26, with all the promises of deeds to come, inspired us to put down on paper all the things we already do every day.
Reduce, Reuse and Recycle
These are the simplest things we can all do to make a big difference. We have to buy cardboard boxes to ship our goods. So, since January 2012, almost 10 years ago, we have bought second hand cardboard boxes for sending goods by courier. These boxes are around 30 to 40 percent cheaper than buying new boxes and while we cannot get all the sizes of boxes we need for all our products, over 80% are recycled boxes with some months nearer 90%. This has made a difference financially and hopefully made an impact environmentally over the past decade.
When we ourselves receive deliveries, all packaging is sorted in to re-usable, recyclable and waste. Over the years we have this down to a fine art and waste is minimal. Cardboard boxes are opened carefully and usable ones are taken to the packing bays to be used for shipping new orders. Any boxes that cannot be used again are cut in to sheets as packaging material. Polythene bags are abundant and always reused to package orders or, if torn, simply used for padding between goods when packaged. Pallet wrap is similar to industrial cling film that protects and holds goods shipped on wooden pallets and is normally a single-use plastic. This is cut off and rolled neatly to be used in our packing area to protect orders during shipping. All these materials, cardboard, polythene and pallet wrap (made from LLDPE), are fully recyclable in UK and can be put in most household recycling bins (some local exceptions may apply).
Wooden pallets are used for transporting most products that come in to our warehouse. These are then used for shipping orders to retailers and trade customers. All pallets are reused many, many times in their lifetime and some we received are a little worse for wear. A saw, hammer and nails are always on hand to repair any that can be saved and, the wood from those that cannot, is used to repair other pallets (that's 4 r's, Repair)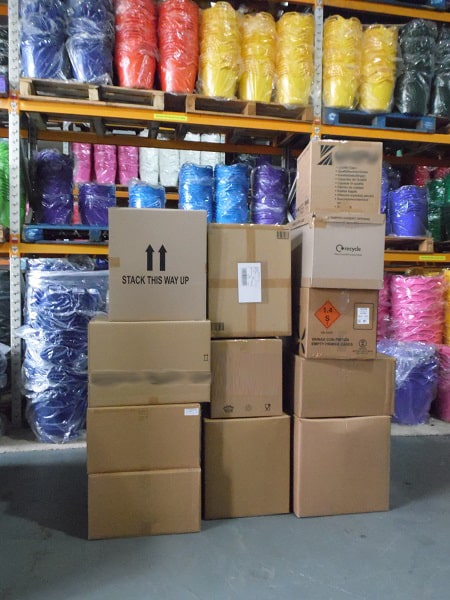 No air miles, just local suppliers
Almost all of our Rainbow Trug products are manufactured within a few miles of our head office and all are made in the UK which lowers our carbon footprint as well as increasing business efficiency. We outsource the manufacture of certain products to local companies which also helps the local economy.
Suppliers green credentials
We support our suppliers environmental efforts and here are two examples. Our couriers, DPD, are a company that is 'carbon neutral' through the use of carbon offsetting and an increasing fleet of electric vehicles. You can visit https://green.dpd.co.uk/ to see what they are doing. Our electricity supplier, Opus Energy, supply us with 100% renewable energy. Take a look at their about us page at https://www.opusenergy.com/about-us/ for an insight to their aim to be carbon negative by 2030.